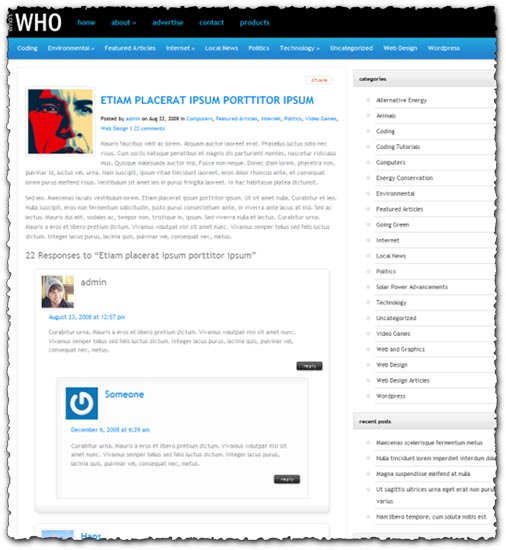 WhosWho elegantthemes wordpress theme
1. How do I install WhosWho onto my wordpress blog?
There are several files included in the ZIP folder. These include wordpress theme files, plugin files, and photoshop files. To installed your wordpress theme you will first need to upload the theme/plugin files via FTP to your server.
First you are going to upload the theme folder. Inside the ZIP folder you downloaded you will see a folder named "theme." Within it is a folder named "WhosWho." Via ftp, upload the "WhosWho" folder to your WordPress themes directory. Depending on where you installed WordPress on your server, the wp themes folder will be located in a path similar to: /public_html/blog/wp-content/themes.
Next you need to select WhosWho and make it your default theme. Click on the design link, and under the themes tab locate WhosWho from the selection of themes and activate it. Your blog should now be updated with your new theme.
2. How do I add the thumbnails to my posts?
WhosWho utilizes a script called TimThumb to automatically resize images. Whenever you make a new post you will need to add a custom field. Scroll down below the text editor and click on the "custom fields" link. In the "Key" section, input "Thumbnail" (this is case sensitive). In the "Value" area, input the url to your thumbnail image. Your image will automatically be resized and cropped. The image must be hosted on your domain. (this is to protect against bandiwdth left)
Important Note: You must CHMOD the "cache" folder located in the WhosWho directory to 777 for this script to work. You can CHMOD (change the permissions) of a file using your favorite FTP program. Of course instead of CHMODing the template folder (as in the tutorial) you would CHMOD the "cache" folder found within your theme's directory.
3. How do I add my title/logo?
In this theme, the title/logo is an image, which means you will need an image editor to add your own text. You can do this by opening the blank logo image located at Photoshop Files/logo.jpg, or by opening the logo PSD file located at Photoshop Files/logo.psd. Replace the edited logo with the old logo by placing it in the following directory: theme/WhosWho/images. If you need more room, or would like to edit the logo further, you can always do so by opening the original fully layered PSD file located at Photoshop Files/bluesky.psd
4. How do I customize the four category blocks on the homepage?
On the home page of your blog there are 4 boxes that show recent articles from 4 particular categories. You can choose which category each box pulls from, as well as customize the orange title above the article to match the categories real name. This can all be done by using the custom option pages found in wp-admin. You will need the ID's of each of the categories you would like to pull from. If you don't know what the category ID is, just look at the end of the URL when browsing the category in your web browser.
5. How do I edit the 125×125 advertisements in the sidebar?
You can change the images used in each of the advertisements, as well as which URL each ad points to, through the custom option pages found in wp-admin.
6. Can I change how many recent posts are displayed on the homepage?
You sure can. The number of recent posts being displayed on the homepage can be changed at any time via the custom option pages in wp-admin.
7. How do I change the feedburner count to reflect my own blog?
To change the feedburner count you need to go into the theme options page and edit the Feedburner Blog Title section. The feedburner blog title is the unique name you gave your blog that is shown at the end of your feedburner url. If you don't know what yours is you can find out by logging in to feedburner and creating your own feedburner count image. Look at the URL given in the link code.
8. How do I change the RSS Email Subscribe form so that people subscribe to my blog?
You need to edit this in the theme options page. Enter your feedburner feed ID in the "Feedburner Feed ID" section.
9. How do I setup the Featured Articles on the homepage?
If you use this theme you will need to have a featured article on your homepage. These featured articles are pulled from a category within your blog. First, you need to make a category called "Featured Articles." You must spell it correctly in order for it to work. (case sensitive!) Once you have created to category, simply add posts to it when you want them to show up as your featured article. Only one featured article is displayed at a time.
On a side note, you can add your article to other categories as well and still have it show up as a featured article by simply adding the article to the Featured Articles section in addition to its normal category
What is a vector EPS?
Encapsulated Postscript Vector graphics (Adobe Illustrator) EPS is a vector extension for
WhosWho elegantthemes wordpress theme
, as vector graphics format, used in vector-based images in Adobe Illustrator. EPS stands for Encapsulated PostScript. An EPS vector can contain text as well as graphics.
The AI extension is a free vector?
Adobe Illustrator Artwork (AI) is a proprietary vector format developed by Adobe Systems for representing single-page vector-based drawings in either the EPS or PDF formats, like WhosWho elegantthemes wordpress theme. The .AI filename extension is used by Adobe Illustrator.
What are the vector formats?
Vector graphics are commonly found today in the SVG, EPS and PDF graphic vector formats and are intrinsically different from the more common raster graphics vector formats of JPEG, PNG, APNG, GIF, and MPEG4.
What is the best vector format?
You may create SVG images with Inkscape or adobe illustrator. Logo Designs are better kept to just a few formats: PDF, SVG, AI, EPS, & DXF. (True Vector Formats - Scalable/lossless) A true vector image can be scaled to no end, with no pixels or distortion. And, if you use a bitmap format, be sure to stick to PNG files. Also, we are focusing on vector eps files, like WhosWho elegantthemes wordpress theme, because are easy to use and do not lose from quality.
Is EPS the same as AI?
At the most basic level, EPS is an open format (understandable by many applications), and AI is Illustrator's proprietary file format. Each of these vectors support different object types (it is not enough to say "vector"). The most basic difference is that the AI format supports transparency, while EPS does not. Download
WhosWho elegantthemes wordpress theme
to check these differences.
Is a PDF a vector file?
It's easy to tell whether your PDF file is a raster or vector format by viewing it in Adobe Acrobat. This is important since the two vector types are converted differently.Vector PDF files are best transformed through data extraction. ... Raster PDF filesare traced since there is no data to extract.
What is the difference between EPS and SVG?
SVG is based on XML file format and can be utilized for web related technology whereas EPS is based on Postscript, rather than XML format. Most of the modern web browser can render SVG based images whereas EPS is originally intended for Print workflow, with Postscript. Also,
WhosWho elegantthemes wordpress theme
can be saved as SVG as well.
Is an SVG a vector?
Scalable Vector Graphics (SVG) is an XML-based vector image format for two-dimensional graphics with support for interactivity and animation. The SVG specification is an open standard developed by the World Wide Web Consortium (W3C) since 1999. SVG images and their behaviors are defined in XML text files.
Are EPS vector files editable?
While most applications can generate EPS files, the only editable benefit you will receive is if the file was originally created as a vector image. Therefore, if an EPS is created in Adobe Photoshop and opened in Adobe Illustrator, that won't make the image editable. But our works like
WhosWho elegantthemes wordpress theme
are fully editable, ready for your work.
How are vector images stored?
Bitmap (or raster) images are stored as a series of tiny dots called pixels. Each pixel is actually a very small square that is assigned a color, and then arranged in a pattern to form the image. Actually you can zoom on
WhosWho elegantthemes wordpress theme
vector and see the individual pixels that make up that image.
What is a vector used for?
An EPS vector like
WhosWho elegantthemes wordpress theme
can be reopened and edited. Best use = master logo files and graphics and print designs. An AI vector is a proprietary, vector type created by Adobe that can only be created or edited with Adobe Illustrator. It is most commonly used for creating logos, illustrations and print layouts.
What programs use SVG?
SVG images can be produced by the use of a vector graphics editor, such as Inkscape, Adobe Illustrator, Adobe Flash Professional, or CorelDRAW, and rendered to common raster image formats such as PNG using the same software. Inkscape uses a (built-in) potrace to import raster image formats. As well, when you are done editing the
WhosWho elegantthemes wordpress theme
file, you can save as the work as transparent PNG image.