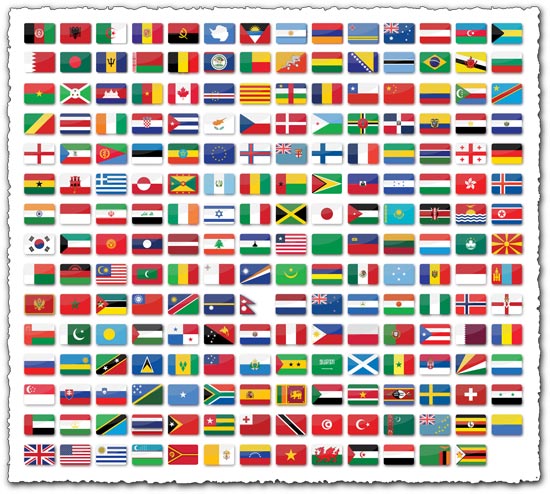 This week I was need some glossy flags with shadow, and I didn`s see anything on the web for free. So I was upset, and I did some changes to this
vector flags file
. Dimension of a flag is 120×80 pixels, and if you need and PNG transparent flags, you can open the AI file (CS4) and export to an PNG file.
209 glossy world flags with shadow and round corners
1 Ai for CS4 and jpg preview – 24.6 Mb – World flags vectors design


» Glossy world flags – download
» Glossy world flags – mirror


So, here are the final result, round corners, glossy and shadow flags of:
Afganistan, Albania, Algeria, Andorra, Angola, Antarctica, Antigua and Barbuda, Argentina, Armenia, Aruba, Australia, Austria, Azerbaijan, Bahamas, Bahrain, Bangladesh, Barbados, Belarus, Belgium, Belize, Benin, Buthan, Bolivia, Bosnia and Herzegovina, Botswana, Brazil, Brunei, Bulgaria, Burkina Fason, Burundi, Cambodia, Cameroon, Canada, Cape Verde, Catalonia, Central African Republic, Chad, Chile, China, Colombia, Comoros, Democratic Republic of the Congo, Republic of Congo, Costa Rica, Cote D'Ivoire, Croatia, Cuba. Cyprus, Czech republic, Denmark, Djibouti, Dominica, Dominican Republic, Ecuador, Egypt, El Salvador, England, Equatorial Guinea, Eritrea, Estonia, Ethiopia, European Union, Faroe Islands, Fiji, Finland, France, Gabon, Gambia, Georgia, Germany, Ghana, Gibraltar, Greece, Greenland, Grenada, Guatemala, Guineea, Guineea-Bissau, Guyana, Haiti, Honduras, Hungary, Hong Kong, Iceland, India, Indonesia, Iran, Iraq, Ireland, Istrale, Italy, Jamaica, Japan, Jordan, Kazakhstan, Kenya, Kiribati, North Korea, South Korea, Kuwait, Kyrgystan, Laos, Latvia, Lebanon, Lesotho, Liberia, Lybia, Liechestein, Lituania, Luxemburg, Macau, Macedonia, Madagascar, Malawi, Malaysia, Maldives, Mali, Malta, Marshall Islands, Mauritania, Mauritius, Mexico, Micronesia, Moldova, Monaco, Mongolia, Montenegro, Morocco, Mozambique, Myanmar, Namibia, Nauru, Nepal, Netherlands, New Zealand, Nicaragua, Niger, Nigeria, Norway, Northern Ireland, Oman, Pakistan, Palau, Palestine, Panama, Papua New Guinea, Paraguay, Peru, Philippines, Poland, Portugal, Puerto Rico, Quatar, Romania, Russia, Rwanda, Saint Kitts and Nevis, Saint Lucia, Saint Vicent and Grenadines, Samoa, San Marino, Sao Tome and Principe, Saudi Arabia, Scotland, Senegal, Serbia, Seychelles, Sierra Leone, Singapore, Slovakia, Slovenia, Solomon Islands, Somalia, South Africa, Spain, Sri Lanka, Sudan, Suriname, Swaziland, Sweden, Switzerland, Syria, Tajikistan, Tanzania, Thailand, Timor-Leste, Togo, Tonga, Trinidad and Tobago, Tunisia, Turkey, Turkmenistan, Tuvalu, Uganda, Ukraine, United Arab Emirates, United Kingdom, United States of America, Uruguay, Uzbekistan, Vanatu, Vatican City, Venezuela, Vietnam, Wales, Western Sahara, Yemen, Zambia, Zimbabwe.
Related Posts :